Keith and Ed are a Gay Christian Male Couple living in Atlanta. Yep there are actually Gay Chirstians. We have been together for over 9 years.
Dancing on Carnival Senation Jan 2005
Keith and Ed actually met each other Online. The Lord used a Gay Christian Chat room on AOL as the instrument to bring them together.


Ed and Keith on the cruise ship NORWAY
When their paths crossed, Keith was based out of and living in Cincinnati Ohio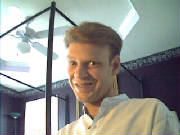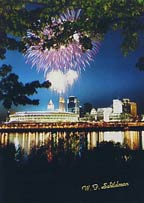 While Ed was living in Los Angeles California.

Keith was then transferred to Atlanta Georgia.
After spending several months in a long distance relationship, God opened up the door for Ed to transfer to Atlanta to be with Keith.
This made Keith VERY HAPPY !
Keith and Ed in front of CNN, in Atlanta GA.
Below - Ed and Keith in Atlanta during the Millinium.
Ed's transfer was only suppose to be for 3 months and then he would have to return to Los Angeles however, they kept extending his temporary assignment until finally when Los Angeles told him he had to move back, a permenant position opened up for him. That was 9 years ago!
God is SO GOOD!
NEXT PAGE - Clink on link below to continue